Raffle Baskets
The Friends of Lanpher Memorial Library have a mission to support the needs and goal of Lanpher Memorial Library which in turn serves our Hyde Park community. One way the Friends accomplish this is by hosting various fundraisers throughout the year. Our Raffle Basket fundraisers are held at specific times of the year - Valentine's Day, Summertime during the Hyde Park Ice Cream Social, in the Fall during Hyde Park Home Days and during the December holiday season. Occasionally, we have hosted extra Raffle Baskets to coordinate with other special community events. Historically, The Friends raffle baskets are popular and many the winners have had a smile on their face as they leave the library with the coveted basket!
In light of our current COVID19 pandemic, the Friends have limited avenues for fundraising. We are trying to "think out of the box" this year. In the spirit of fulfilling our mission we are featuring a Virtual Live Auction Basket. We hope you enjoy bidding and make this fundraiser for Lanpher Memorial Library a community success. Please be generous as the Library really needs your support.
The lucky bidder will win, so may they enjoy!
"Wag Your Tail" Auction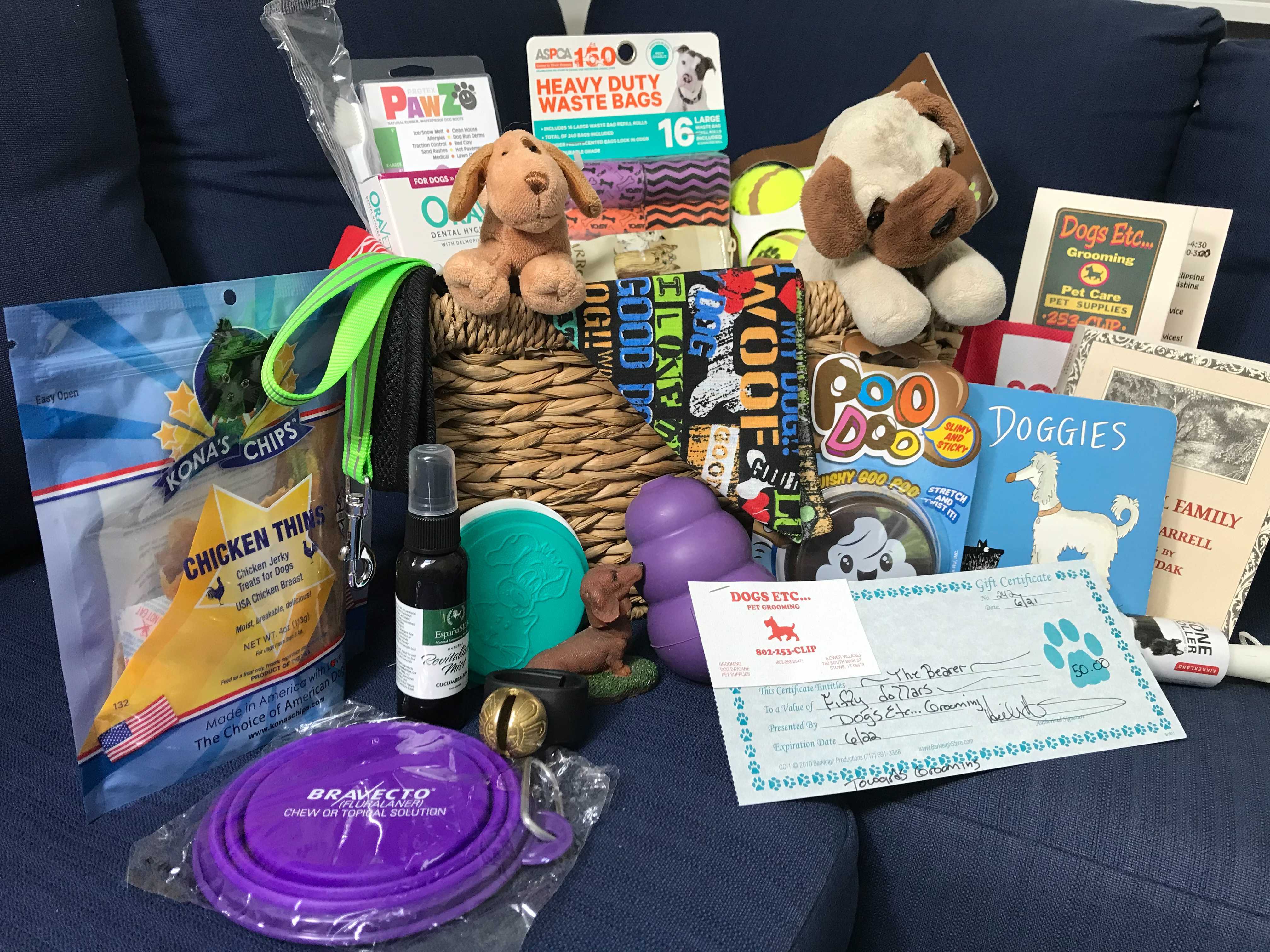 Auction Fundraiser
Friends of Lanpher Memorial Library
June 10, 2021 - June 30, 2021
Value: $100
Email your best bid to lanpherfriends@gmail.com. We will update the highest bid every day on our website. You can bid again and again. Your email bid will be timestamped. The winner will be notified after auction closes April 30 at 5pm.
$50 Gift Certificate "Dogs, Etc…" Pet Grooming
Heavy duty waste bags
PawZ paw protectors
OraVet hygiene chews/toothbrush
Doggie Scarves (2)
Kona's Chips Dog chicken jerky
Doggie chew toys - Konc, Poo Doo
Travel water bowl and food covers
Revitalizing mist 'Cucumber Spa'
Book - Doggies by Sandra Boynton
Boot - The Animal Family by Randall Jarrell (art by Maurice Sendak)
Wicker toy basket
Dog Leash - GLS
Past Raffles