Kindness Rock Extravaganza
July 3, 2021
Friends of Lanpher Memorial Library
Kindness Rock Extravaganza
Saturday, July 3rd at Lanpher Library
10am to noon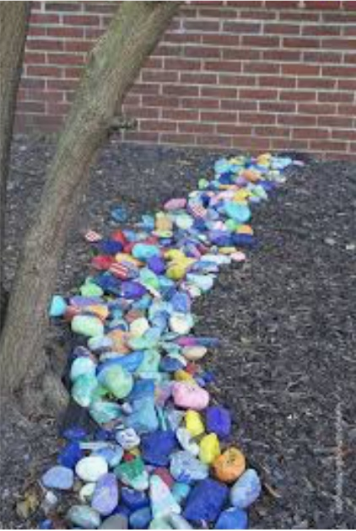 We are creating a Rock Snake for the Kindness Rock Project on International Drop a Rock Day! Saturday, July 3rd at 10am - noon. Bring a painted rock or rocks for judging and prizes.
Need a rock or paint? Pick up a local rock Tuesday, June 15th 2-4pm or Saturday, June 19th 10am - noon. Return your entry by 10am for judging on Saturday July 3rd 10am to noon.
Register at lanpherfriends@gmail.com.
Generously supported by Crossview Gardens and Fork and Gavel.
Contest Rules
Register yourself/family for participation at lanpherfriends@gmail.com. Please provide your name, age and contact information. (receive a number for your entry)
Let us know if you need a rock.

Pick up a free rock at Lanpher Library on either Tuesday June 15th 2-4 pm or on Saturday June 19th 10 am to noon.

Be creative. Paint your own design! There will be four age divisions: <5 yrs, 6-10 yrs, 11-17 yrs, and 18+ years.
There will be prizes awarded for each age group above plus "Best of Show".

Enter your rock (either donation or from your own home) dropping off on Saturday October 24th by 10 am. Judges will announce winners by noon.
Prizes (gift certificates for Fork and Gavel) will be available at noon.

The Kindness rock project was developed to spread kindness. Rocks may be creatively painted to reflect any subject, used as a learning activity for children, and provide emotional support and community inspiration. International Drop a Rock day is July 3rd when people are encouraged to place a painted rock in a public place. The Friends of the Lanpher Library are planning to creat a BOOK SNAKE, to fit in with the summer reading theme of Tales and Tails. We hope you will join us by painting one or more rocks which will line the sidewalk of the Library for the summer. Be bold, be creative, write or color your rocks! If you need materials, we will provide rocks on a first come first served basis. Additionally we will have 30+ paint-sets of 5-6 colors again, first come first served. Please feel free to use your own rocks and paints too. A few examples are shown below.